If you want to learn more about Cristobal Gabarron's art, you're in the right place. Immerse yourself in the artist art world.
Olympic Art
Sport art arrived in 1989 with the first sport art work for Barcelona 1992 Olympic Games. Followed by Atlanta 1996 and the Centennial of modern olympics.
Recent works
While his art works extend several media and decades of work, a quick update on his latest works is always worthy to come back often.
Scenography
Performing arts is the inspiration for the artist's Stenography. Remarkable works for the Washington Ballet and the Kennedy Center for Performing Arts.
Ceramic
Always exploring different media, the artist has a personal art expression in his ceramics, shown in Cannes in the mayor retrospective in France.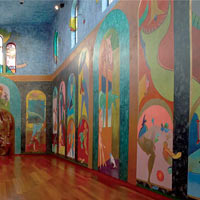 Murals
Large Mural is one of the identities of Cristobal Gabarron. Since 1992 in Seville Universal Expo and Barcelona 1992, the artists have done many.
Architectural art
The relationship between art and architecture has always been and interest of the artist. Enjoy of his application on houses, industrial buildings and parks.